Fears of bird flu after several outbreaks hit farms in Europe
Comments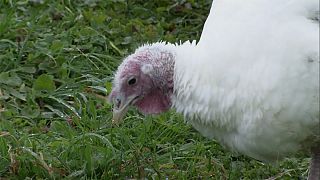 Several countries in Europe have reported outbreaks of the highly contagious bird flu strain H5N8.
In Austria, the health ministry ordered that all birds on a poultry farm be culled this week to stop the disease from spreading after a Turkey tested positive for the virus.
Though it has never been found in humans, H5N8 is particularly virulent in wild birds.
The Austrian farmer whose birds will be destroyed spoke of the impact on his business.
"Christmas is when we see our main turnover. We have to kill about 1,000 animals. For us this is a huge challenge to deal with both physically and mentally. We will have to see how we can cope with the situation economically," farmer Klaus Flatz said.
Along with Austria, cases in Germany, Switzerland, Hungary and Croatia have all recently been reported.
9000 turkeys were destroyed in the northern German state of Schleswig-Holstein this week, while the Dutch government has ordered all poultry flocks be kept indoors.