Donald Trump and Barack Obama hold talks at the White House
Comments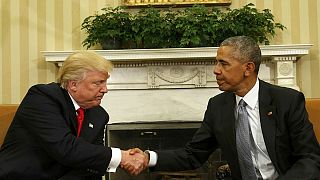 President Barack Obama and his successor Donald Trump have held talks at the White House after the Republican businessman's shock election victory.
The behind-closed-doors meeting, which lasted around 90 minutes, was held to discuss the handover of power.
In an attempt to bury past differences, both men displayed a conciliatory tone.
Speaking to reporters, President Obama said he and the President-elect had held an ''excellent'' and ''wide-ranging meeting''. Obama also said he was ''rooting'' for his successor and would do everything he could to help him.
"Most of all, I want to emphasise to you, Mr. President-elect, that we now are going to do everything we can to help you succeed because if you succeed then the country succeeds," Obama said.
For his part, Trump said it was a ''great honour'' to meet the president and said he looked forward to future meetings.
"I very much look forward to dealing with the president in the future, including counsel. He explained some of the difficulties, some of the high flying assets and some of the really great things that have been achieved. So Mr. President, it was a great honour being with you and I look forward to being with you many many more times in the future," Trump said.
The public display of unity and respectful tone stood in stark contrast to the often bitter exchanges which characterised the divisive election campaign.
Ahead of Tuesday's vote Obama had called Trump, who has never held elected office, ''uniquely unqualified" to be president.
Trump has vowed to overturn many of what Obama sees as his achievements over the past eight years, including the Affordable Care Act or Obamacare.
He has also said his immediate priorities will be to restore the country's infrastructure and doubling its economic growth.
The president-elect was accompanied to the White House by his wife, Melania, who held talks with First Lady Michelle Obama.