A Trump White House may reek of conflict of interest
Comments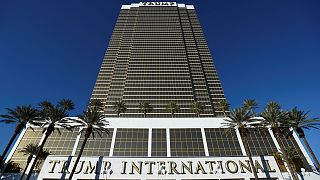 Donald Trump is possibly the least-qualified president-elect in American history. The billionaire has never held any political office, and has a fractious relationship with the party that he represents, having burned his bridges with most of its grandees.
What he does have is a bulging address book of Republican friends he has done deals or played a round of golf with. They are mostly of around his age and all seem to be on the right-wing of the party. Some are billionaires, too.
This raises the spectre of conflict of interests, especially in the banking, steel, oil and gas industries. President Donald Trump will run the White House and the country while, he says, his children will run his companies. He is the first US president not to set up a trust to run his businesses while in office, and there appears to be little stopping him from enacting legislation that will benefit his hotel, luxury housing, and casino empire that sprawls across America but also has interests in South Korea and Turkey, to name but two.
He has already reneged on a campaign promise to set up an independent financial entity to manage it all without his intervention, as that will be the job of his children from his first marriage, all Vice-Presidents in the Trump Organisation.
Trump may have been inspired by another successful businessman who went into politics and conquered the highest office in the land, leaving his business empire in the hands of his children, and promising never to interfere. One Silvio Berlusconi in Italy. We all know how that turned out.
Chris Christie, a bridge too far?
High-Ranking New Jersey Democrat Calls for Impeachment of Gov. Chris Christie https://t.co/E3siUZG6E2pic.twitter.com/SqKOkkHl4h

— Chris Christie News (@Christielizer) November 11, 2016
Among Trump's political friends is a man who many expected to challenge for the White House himself. Chris Christie, the Republican governor of New Jersey. He had been charged with leading the transition team, organising the baton change with President Obama. He might have hoped to get the Vice-Presidential nomination himself, but his appetite for power proved his downfall after two scandals, and he was replaced by Indiana governor Mike Pence, who describes himself as a "Christian first, politician second" and walks a line between the ultra-conservative Tea party faction and America's evangelists, who voted massively for Trump.
It had all looked so good for Christie, but since his re-election to the governorship in 2013, he has beaten all the unpopularity records in his state. He is a family man, too, so much so that he had them alongside him in a glossy poster campaign to promote tourism in New Jersey. Then the local press revealed that the advertising costs were much more expensive than an alternative project and, as chance would have it, the posters went up everywhere just as the race for the governor's office began,
Christie might have shrugged off this blip and saved his reputation had it not been followed by the*"Bridgegate"* affair.
Washington bridge is falling down
"Bridgegate" gets its name from the George Washington Bridge, New York's busiest, that links the state of New Jersey with the state of New York. In September 2013 all its access roads were suddenly closed, triggering unprecedented traffic jams at the start of the new school year, and notably paralysing the suburban town of Fort Lee, whose democrat mayor has been a thorn in Christie's side. Who ordered the ill-timed and uneeded closures? The governor's own services with responsibility for bridges. Christie denied all knowledge, and his aides took the fall.
That led to some tongues loosening, even those of Christie's erstwhile friends and allies. On November 4, just four days before the US elections, two of the governor's closest aides were found guilty of violating civic rights. They could get 20 years in jail. Trump was reportedly so disgusted by Christie's dodging the bullet that his star has fallen, and he is reportedly now out of the tycoon's inner circle. He could still face legal action.
All bets off in Atlantic City
Atlantic City, where Trump swindled workers and investors, loses self-governance https://t.co/IIUX7Flhaypic.twitter.com/gIVFpM4c6f

— Slate (@Slate) November 11, 2016
Christie and Donald Trump's common interests are also to be found on America's north-east coast in Atlantic City, once America's gambling capital but now in steep decline.
The local council was given the mission to prepare a plan to save the city from bankruptcy, but at the end of October it was binned by the Municipal Department of New Jersey at the behest of Christie. By November 9 Atlantic City's finances had been entirely taken over in a vote orchestrated by the governor's services.
This suited Donald Trump to a tee. The opaque system of management that underpinned the former gambling king of Atlantic City's investments may now never see the light of day. America's president-in-waiting churned five casinos in his 30 years there, pulling out completely nursing losses and disputes two years ago. The flagship establishment, the Trump Taj Mahal, closed its doors bearing a 350 million dollar deficit. The closure reportedly cost 3 000 employees their jobs.
The old boys' club
Donald Trump's friends serve him well: Carl Icahn is an old buddy. Aged 80, in 2008 he was tasked with selling Trump's stakes in four casinos in Nevada. Icahn's name is being touted as a possible future Treasury Secretary and treasure is something the fellow-billionaire knows plenty about.
#Icahn:how to rationally invest. #Trump's friend won't damp economy,which means Trump is not anarchist,which is good https://t.co/xvSatHTg2B

— 冨田麻里(7thclouds公式ツィート (@7thclouds) November 10, 2016
Harold Hamm, 70, is an oil baron. He currently runs Continental Resources and is being tipped as a possible Energy Secretary. But don't think of suggesting any conflict of interest. Trump is merely doing as his predecessors have always done, rewarding loyal followers. However Hamm is something more for Trump, he is a symbol. Hamm was one of the first oilmen to use the controversial fracking technique in the hunt for shale gas.
He has plenty of resources as his company sits on the Bakken Formation, named after the farmer under whose fields in North Dakota lies an energy Eldorado rich in oil and gas. It is the largest untapped hydrocarbon field in the United States.
Heavy weather ahead for the climate
Our conversation with Daniel DiMicco, a former steel executive and Donald Trump's senior trade adviser. https://t.co/LXlFmfi4EHpic.twitter.com/OE0jRh8mnF

— Marketplace (@Marketplace) 24 septembre 2016
The same logic applies for Daniel DiMicco, 65: who better to serve as Secretary of Commerce, a key player when it comes to negotiating international trade agreements?
He has just quit his job as boss of one of America's biggest steel groups, Nucor. According to an investigation conducted by NGO Greenpeace Nucor has for a number of years been a major financial contributor to the Heartland Institute, a pressure group founded in Chicago in 1984. Greenpeace accuses it of being a major climate change sceptic and undermining global warming science by any means necessary.
In 2009 the New York Times revealed that the oil company ExxonMobil also contributed financial support to the lobby until 2008. At the start of 2012 American investigative journalists published secret documents from the Heartland Institute proving it had secretly paid scientists to skilfully seed the internet with papers critical of theories of climate change.
Noam Chomsky on #DonaldTrump, climate change and our accelerating race toward disaster. https://t.co/4YImHl6lNv#climatechange

— Truthout (@truthout) November 14, 2016
Donald Trump has already said he will pull America out of the COP 21 international climate agreement, claiming the idea of global warming is a Chinese-inspired con to make American industry uncompetitive. Has he been inspired by these methods? The prospect is troubling.
I would do anything for my daughter
Meet Donald Trump's Sexy Hot Daughter, Ivanka Trump who is a Model (Photos) https://t.co/37JQtbQMeepic.twitter.com/5IrePfYKNJ

— osascruz (@OsasCruz) 11 novembre 2016
The cherry on the cake, if rumours are to be believed, and they are extremely difficult to confirm, is the thesis that because the friends of the president are nearly all elderly men then one way of softening the administration's image and making it more feminine would be to employ Ivanka. She is young, 35, a former model, and as his daughter will always have the president's ear. That would take conflict of interest to a whole new level but as we all know by now, The Donald retreats for no-one, and with Ivanka is unlikely to ever say "You're fired".