Argentina: attracting more tourists through VAT-free travel
Comments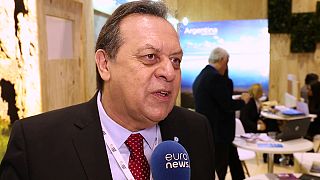 At the World Travel Market 2016 in London, the leading event for the global travel industry, euronews spoke to Gustavo Santos, the Minister of Tourism of Argentina, about how his country wants to attract tourists with VAT-free travel by the end of 2016.
The interview is in spanish language
Hoy en Argentina, a partir de diciembre, se les devolverá el IVA a los turistas, es decir en el alojamiento. Es decir que lo paguen directamente en el hotel o por una agencia de viajes les va a costar el 21 por ciento menos. Y a los amigos americanos les decimos que ya no tienen que pagar nada para venir a Argentina. Y para los amigos chinos queremos que decirles que si tienen visa para Estados Unidos o visa de la Unión Europea va bastar y con menos trámites para que ingresen a Argentina sin visa. Y a todos los amigos del mundo queremos decirles que les esperamos con los brazos abiertos.