Donald Trump's aides revoke his Twitter privileges ahead of US election
Comments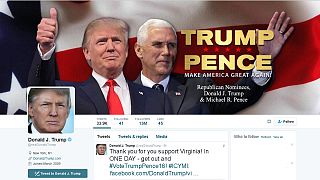 Donald Trump's campaign staff have reportedly taken away the candidate's Twitter access in a last-ditch attempt to minimise the real estate tycoon's frequent social media ramblings ahead of the US presidential election.
The 70-year-old used Twitter as a weapon, firing off insults and mockery at those who offended him, including "Crooked Hillary" and Republican rivals "Little Marco" Rubio, Jeb "Low Energy" Bush and "Lyin' Ted" Cruz. Another target was the family of a Muslim U.S. Army captain who died fighting in Iraq after the soldier's father had spoken against Trump at the Democratic National Convention. Trump sniped back for days despite advice to move on.
While drawing criticism for his blunt talk, Trump also won passionate supporters for his crude remarks and hardline proposals, including his call for a ban on Muslims entering the United States, his vow to force Mexico to pay for a border wall, and his promise to renegotiate international trade deals. He drew enthusiastic crowds to rallies where people cheered him for "just saying what everybody's thinking."
As of late October, the New York Times had counted 282 people and things he had insulted on Twitter since declaring his candidacy.
Sorry losers and haters, but my I.Q. is one of the highest -and you all know it! Please don't feel so stupid or insecure,it's not your fault

— Donald J. Trump (@realDonaldTrump) May 9, 2013
After Neil Young denied Trump permission to use his song, "Rockin' the Free World" at campaign events, the Republican candidate hit back.
.Neilyoung</a>'s song, "Rockin' In The Free World" was just one of 10 songs used as background music. Didn't love it anyway.</p>&mdash; Donald J. Trump (realDonaldTrump) June 24, 2015
American conservative columnist Michelle Malkin's public feud with Trump.
michellemalkin</a> You were born stupid!</p>&mdash; Donald J. Trump (realDonaldTrump) March 22, 2013
Donald Trump also took to Twitter to target President Barack Obama
If Obama resigns from office NOW, thereby doing a great service to the country—I will give him free lifetime golf at any one of my courses!

— Donald J. Trump (@realDonaldTrump) September 10, 2014