Elderly take to the streets in Greece over further pension cuts
Comments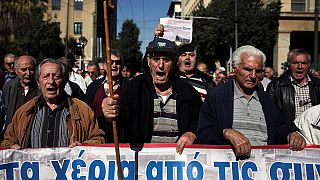 Pensioners in Greece have taken to the streets to protest against new pension cuts.
The reductions are part of the austerity package the government agreed to with international lenders.
More than 4,000 retired people rallied outside the Ministry of Labour in Athens.
74-year-old pensioner and former metal worker Antonis Papadimitriou told reporters: "My pension's been cut in half!
"If the Labour Minister can live on the money we're getting, then he should come down here and say that."
Marika, a former insurance employee, said: "It's not only today they're cutting our pensions, they're being reduced all the time.
"Since 2010 our pensions have collapsed, both the main payment and the supplementary pensions."
Former truck driver Giannis said: "We are human above all. We will not permit this as pensioners, because after us other people will be due their pensions and they will suffer."
The government of prime minister Alexis Tsipras is under increasing pressure over reforms, with private sector workers set to a one-day strike on the 8th of December.