EU warns Wallonia over Canada trade pact
Comments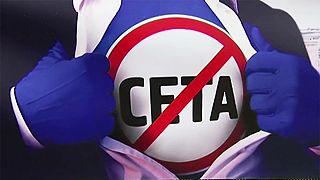 The EU is stepping up the pressure on Belgium's French-speaking region of Wallonia after its government refused to back a free trade deal with Canada.
Belgium's federal government supports the pact, it also needs the backing from all six regional and community parliaments.
Wallonia and Belgium have until Friday to patch up their differences.
EU Trade Commissioner Cecilia Malmstroem said Canadian Prime Minister Justin Trudeau will not be in Brussels next week to sign the pact unless they can strike a deal.
"Yes there has to be an agreement. Our Canadian friends need to know whether they should book their ticket or not," Malmstroem said.
"There are lots of things to discuss with our Canadian friends but if we don't manage to have this trade agreement there will not be (a visit by Trudeau) at this occasion," she said.
The EU-Canada free trade deal has been seven years in the making.
Wallonia's premier Paul Magnette is asking for more protection for local farmers, as well as stronger environmental safeguards.
The region, which has high levels of unemployment, is still reeling from the decision by US machinery maker Caterpillar to shutter its plant near Charleroi, close to the French border.