Argentina: thousands protest against crime and corruption
Comments
By
Euronews
with
Insight Crime, US State Department, Reuters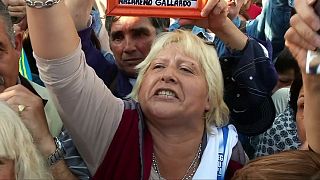 Thousands of people have protested in Buenos Aires in anger over a perceived lack of action concerning crime and punishment for breaking the law.
Argentina has long been plagued by corruption, which many at the rally said has hampered their search for justice.
Parents who had lost children were among those gathered as part of a group known locally as Madres del Dolor (Mothers of Pain).
Two women whose sons had been killed recounted their experiences.
Nilda Gomez is hoping the size of the protest will mobilise the authorities to take action. Her son was killed in a fire.
"It's easy to kill and it's cheap because you simply go to jail, then leave. It's just a process," she said.
Andrea Ferreira's son was also killed. He was shot dead by a minor. She is calling for tougher repercussions for minors who break the law.
"The culprit was a minor and is free," she said. "We need less impunity for minors. Victims need legal representation and the effective enforcement of sentences, because the judicial process is very long. We've come out to march despite our pain."
Crime statistics are few and far between in Argentina. Figures released by the government in April appear to indicate a relatively stable rate between 2008 and 2015. However, the US State Department considers crime a "serious problem" in the nation.