Tuareg militant leader killed in car explosion outside UN base in Mali
Comments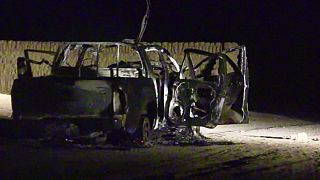 A Tuareg militant leader has been killed in a car explosion in northern Mali.
Cheick Ag Aoussa was the number two in the High Council for the Unity of Azawad, one of many armed groups in the country.
The blast occurred just 300 metres from the UN base where he had been meeting with French and UN troops in Kidal. One security source said the death was the result of running over a land mine, however, one witness said he had been close when he saw the car blow up, and the explosion came from inside not under the car.
The incident is likely to further provoke tensions between rival pro and anti-government groups of ethnic Tuaregs in Kidal.
Sporadic fighting has continued in the area, despite the siging of a UN-backed peace deal in 2015. Aoussa's group broke ties with a group of Al-Qaeda linked extremists, who continue to carry out attacks on peacekeepers and Malian troops.