Kaine and Pence clash in vice-presidential TV debate
Comments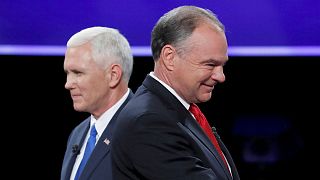 Hillary Clinton and Donald Trump's vice-presidential nominees have faced off in a punchy one-off TV debate.
At times ugly, the 90 minute clash saw the two duel on a range of issues, including Syria, Russia and abortion. But it was Trump's presidential credentials which dominated, with Democrat Tim Kaine branding him a ''fool or maniac''.
"He (Trump) trash-talks the military, 'the military is a disaster', 'John McCain is no hero', 'the generals need all to be fired", and 'I know more than them'." He wants to tear up alliances, 'NATO is obsolete' and 'we'll only work with Israel if they pay big league'. Third, he loves dictators. He's got sort of a personal Mount Rushmore. Vladmir Putin, Kim Jong Un, Muammar Gaddafi, and Saddam Hussein and last and most dangerously, Donald Trump believes that the world would be safer if more nations have nuclear weapons,'' Kaine said.
Republican Mike Pence hit back by laying into Clinton's time in office, dismissing her as ''weak and feckless.''
''Hillary Clinton's top priority when she became Secretary of State was the Russian reset. After the Russian reset, the Russians invaded Ukraine and took over Crimea and the small and bullying leader of Russia is now dictating terms to the United States to the point where all the United States of America (…) just withdraws from talks about a cease-fire while Vladimir Putin puts a missile defense system in Syria, while he marshals the forces and begins … Look, we have got to begin to lean into this with strong broad-shouldered American leadership," Pence said.
Two snap polls – for CBS and CNN – after the clash gave Pence the edge, suggesting that Trump may have benefited more from the debate than Clinton.