Space: Rosetta mission to come crashing to a close
Comments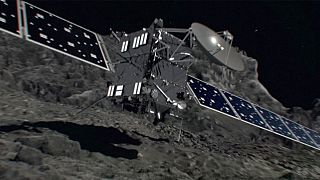 The Rosetta space mission is about to come crashing to an end.
The probe that has been tracking Comet 67P since 2014 will be deliberately manouevred into the ball of ice and dust and is not expected to survive the impact.
Pre-loaded software will ensure every system is shut down on contact.
Replays of today's @ESA_Rosetta science talks #cometlandinghttps://t.co/TYZMdstRmfhttps://t.co/Ydf04Me6f1

— ESA (@esa) September 29, 2016
European Space Agency Project Manager Matt Taylor explained why now is the best time for the crash.
"We decided to end the mission now to basically utilise the spacecraft when it had its optimum capability. I would use the analogy of a rock band from the 60s or 70s: we know there are some of them now that still go on tour and they can't sing anymore, their rheumatism may prevent them from playing their instruments that well, so what we want to do is with the rock star that is Rosetta, put it down when it's at maximum capability."
Rosetta has been gathering information for the past 25 months, assisted since November 2014 by a small robot called Philae, which it dropped onto the surface of the comet.