US presidential candidates sharpen claws ahead of TV debates
Comments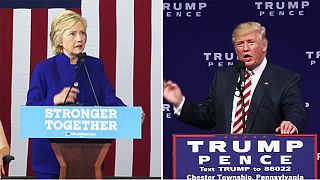 It is just three days until the first of the televised face-to-face showdowns between Hillary Clinton and Donald Trump on Monday.
With undecided voters and independents likely to be key to winning the White House the TV debates will be critical, and, bearing in mind the inflammatory tone of the election so far, potentially gripping political theatre.
Will This Debate be Different? https://t.co/W0vTdtQ9Ga#Election2016

— Election Central (@PresElectNews) September 23, 2016
"The candidates' preparation for the first debate could not be more different.
Clinton, who knows her policy briefing books by heart, is reportedly also getting ready to ward off personal attacks with two experienced attorneys framing Clinton's reactions into precise disciplined language.
On the other hand, Trump has repeatedly said that he doesn't need a thorough preparation. Yet he will spend the weekend with some of his closest and hardest-hitting advisers, which suggests that he will try to look for the one knock-out moment. For both candidates it will probably be the last time to be able to sway voters," reports euronews' Stefan Grobe.