Twitter's shares jump on takeover talks report
Comments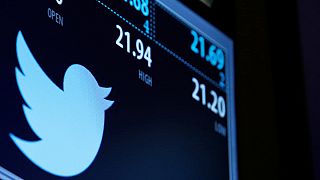 Twitter is reportedly seriously looking for a buyer.
The beleaguered social media company's shares got their biggest bump in two years on Friday as it was said to be talking with several technology companies – including Alphabet's Google and Salesforce.com.
Other names being mentioned were Verizon and Microsoft – which recently bought LinkedIn.
The American business news channel CNBC reported it could receive a formal offer soon.
This was just the latest round of rumours about Twitter which has been struggling to add users and advertisers and has seen its revenue growth slow and its share price slump.
Vala Afshar, who describes himself as chief digital evangelist at Salesforce, added to the rumours by tweeting about Twitter – twice.
Why twitter</a>?<br><br>1 personal learning network<br>2 the best realtime, context rich news<br>3 democratize intelligence<br>4 great place to promote others</p>&mdash; Vala Afshar (ValaAfshar) September 23, 2016
I have tweeted my personal views regarding 'Why Twitter?' numerous times over the past couple of years. I simply love Twitter.

— Vala Afshar (@ValaAfshar) September 23, 2016
Morningstar analyst Ali Mogharabi said Alphabet would be the best acquirer for Twitter since it has not yet been able to crack social media on its own despite several efforts.
"From a strategic standpoint, we think from it would be more beneficial for Alphabet as opposed to Salesforce," Mogharabi said.
As rivals such as Facebook's Instagram and Snapchat gain traction with advertisers and social media users, investors have questioned how long Twitter could persist as a stand-alone company.