Transatlantic trade deals trigger Brussels demo
Comments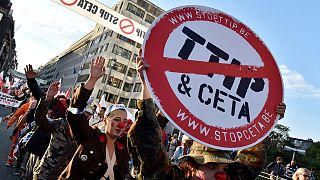 Several thousand farmers, activists and trade unionists held a protest outside EU buildings in Brussels in the latest demonstration against planned transatlantic free trade deals.
Their targets were the Transatlantic Trade and Investment Partnership (TTIP), which the EU and US are still negotiating, and the Comprehensive Economic and Trade Agreement (CETA), a deal struck between the EU and Canada and awaiting approva.
The protesters say TTIP and CETA will lower standards, be bad for the environment and allow big business to challenge governments.
The rally reflects a growing backlash in the West against free trade and globalisation.