Eastern districts of Aleppo desperate for food and medicine
Comments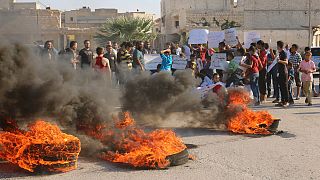 The Castello Road is a strategic supply line for rebels in the besieged districts of Aleppo.
The route was retaken by Syrian army forces backed by Russian aircraft in August completely isolating the eastern part of the city.
#Russian soldiers on #Castello road to monitor ceasefire https://t.co/Ybtn2kSnI3#Orient#Syriapic.twitter.com/o2gvLZ2mdJ

— Orient News English (@OrientNewsEn) September 14, 2016
As part of the recent truce the Castello Road must be demilitarised before any UN aid convoy leaves Turkey. The 250,000 people here have nothing and are becoming more and more desperate by the hour.
"We need a safe way to be able to evacuate the wounded the bombing here has been intense the wounded with limbs blown apart need treatment,'' said one man trapped in the area.
The situation is much better in the al Azizyeh area in the west of Aleppo, which is under government control. The truce has allowed the residents to celebrate the festival of Eid.
Popcorn was even avaliable on the street and the seller was optimistic:
"Thank God the situation is good. We will be able to do some trade. This year Eid has been so much better than last year. The area is calm now and with the truce things will be much better."
Aid is dripping into Syria two trucks full of toys and food provided by the Turkish ruling AKP party crossed the border at Karakamis arriving at Jarablus a town in northern Syria.
Jarablus, under ISIL control for the past two years, was recently liberated with the help of Ankara, the scars left by the jihadists remain visible.
From #Jarablus the small Angel say: Happy #Eid to everyone :) pic.twitter.com/heT6QwQvp6

— Ahmad Alkhatib (@AhmadAlkhtiib) September 13, 2016
Across Syria 19 towns are still without humanitarian assistance, according to the UN, that amounts to some 600, 000 people who are in dire need of food and medical assistance.