'Claw drone' mimics bird of prey
Comments
By
Euronews
with
PRODRONE, GUARDIAN, GIZMODO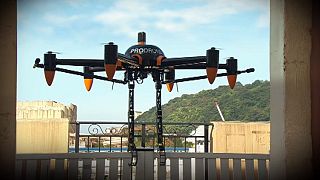 A "clawed" drone that can perch like a bird and pick up objects is the latest addition to the crowded market for unmanned aerial vehicles.
The PD6B-AW-ARM makes a whole new range of tasks possible, and I am confident that nobody else could have made it.

Prodrone CEO
Prodrone, a Japanese drone company based in Nagoya, has unveiled the new model to allow controllers to take advantage of the versatility of a bird of prey's talons.
They're calling it the PD6B-AW-ARM.
With a maximum payload of 20kg, the drone can fly up to 60km an hour for roughly a half hour, and according to Prodrone, fits a growing need for "hands-on" drones that can accomplish complicated, or perhaps, hazardous tasks.
In a statement Prodrone CEO Masakazu Kono said his company is "firmly focused on the future of commercial drones and on being world pioneers in developing 'task-oriented drones.'"
According to the company, these tasks could include attaching or joining things together, cutting cables, turning dials or switches, retrieving hazardous materials or acting as a flying lifeguard by carrying and dropping buoys.
The PD6B-AW-ARM was first unveiled last week in Las Vegas at the International Drone Conference and Exposition, and it has captivated social media since.
Trouble viewing the video? Click here