At least three dead after train derails in Galicia, Spain
Comments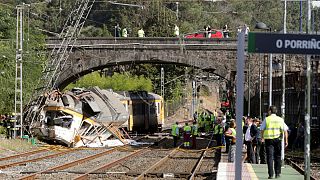 At least three people were killed on Friday after a train derailed in Galicia in north-western Spain, emergency services said.
Dozens of people were also injured in the crash, Spanish media said, citing Eva Garcia de la Torre, the mayor of O Porrino, the town closest to the accident. The train between the city of Vigo and Porto, in Portugal, was carrying 63 passengers and two crew members, including the driver, state-run railway operator Renfe said.
Among the injured were 26 Spaniards, six Americans, three Portuguese, one British, one German, two Brazilians, two Uruguayans, two Argentinians and a Chilean citizen.
Spanish media reported the driver was among those killed. Television footage from the accident, which happened just before 9.30 am (0730 GMT), showed the train's front carriage flipped onto its side and rammed up against an electricity pylon next to the track.
The crash took place close to a station. In 2013, 80 people were killed in Spain's worst rail disaster in decades when a high-speed train went off the tracks and slammed into a wall near Santiago de Compostela, in Galicia.
Reuters