EU-Turkey should 'talk more to and less about each other' - Mogherini
Comments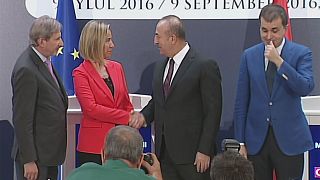 Federica Mogherini has encouraged the European Union and Turkey to "talk more to each other and a little bit less about each other."
The EU's Foreign Policy Chief was in Ankara for discussions on enlarging the union and the migrant situation in Turkey.
"Our work will go on in all fields in a very constructive way on visa liberalisation, on the upgrade of custom union, and including also our support of Turkey in its efforts of welcoming huge number of Syrian refugees and in particular focusing on the education of children," she told a press conference during the first such ministerial meeting since the failed coup attempt in Turkey on July 15.
But Turkey appeared unconvinced. Foreign Minister Mevlüt Çavuşoğlu claims the three billion euros promised by the EU as part of a migrant cooperation deal is taking too long to arrive.
"The delivery process of the 3.3 billion euros promised by the EU (for Syrians living in Turkey) should be accelerated," he said.
"Of course it should be transparent and everyone should know where it is spent, but in an extraordinary period we should advance quicker. I think we are like-minded on that and, we should provide more help to people living in very difficult conditions."
Turkey and the EU didn't seem to be fully on the same page regarding the civil war in Syria, either. The Turkish army sent ground troops into the neighbouring country last month, however Mogherini stressed that a military approach was not the solution to the conflict.