A bomb claimed his leg, but it won't stop him reaching Rio
Comments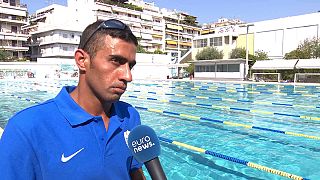 Syrian refugee Ibrahim Al Hussein has been named as one of the two members of the Paralympic Refugee Team that will head to Rio de Janeiro hunting a gold medal.
After fleeing war-torn Syria Al Hussein – who lost a leg in an bomb explosion – eventually settled in Greece where he was granted asylum two years ago.
He will compete in the 50m and 100m freestyle swimming events in Rio.
He said of his adopted country: ''I hope next time I'll be an athlete of the Greek Team. That's my hope. Here (on his upper arm) I have a tattoo of the Greek flag. You know, I like Greece very much. I have Greece in my heart.''
Al Hussein carried the Olympic flame through the Elaionas refugee camp in Athens in April and although competing at the Paralympics is a dream come true, Al Hussein wants nothing more than the war in his homeland to come to an end.
He said: ''I hope that the war will stop. To put an end to this catastrophe, to put an end to the bloodshed. It is too difficult. What can we do? There is nothing in Syria. The people (of Syria) are coming here. You know this problem. Every second it's boom boom boom boom.