French president criticises Turkey's 'contradictory' intervention in Syria
Comments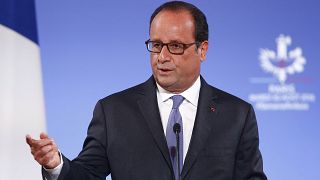 France's president has criticised Turkey's military push into northern Syria, saying that it risks escalating the conflict.
Addressing a gathering of French ambassadors in Paris, Francois Hollande called on all parties to stop the fighting and return to peace talks for the country.
"There won't be any victorious struggle against terror, if the crises that are the causes of terrorism are not resolved," said Hollande.
"It is more than time to stop this massacre and France is calling for an immediate truce."
Hollande told the ambassadors that he understands why Ankara's deployed its army on Syrian territory, but also said that Turkey is taking aim at Kurdish forces who are fighting ISIL. Forces who have the support of the anti-Assad coalition, of which France is a part.
Hollande told the ambassadors: "These multiple, contradictory interventions carry the risk of a general inflammation, so the absolute urgency is a halt to fighting and a return to negotiations."
On Ukraine, Hollande said he and German Chancellor Angela Merkel had contact with President Petro Poroshenko and Russia's Vladimir Putin throughout August.
He warned that tensions in Ukraine had worsened over the summer and were at risk of further deteriorating.