Barroso Goldman Sachs pension protest petition grows
Comments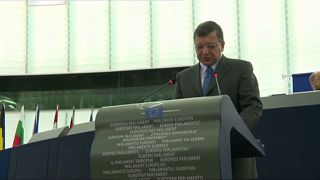 Anger is mounting over former European Commission president José Manuel Barroso's decision to take a top job with US investment bank Goldman Sachs.
It is, at the worst possible moment, a disastrous symbol for the Union and a gift horse for the Europhobes
Close to 80,000 people have signed an online petition calling for Barroso to have his more than 100,000 euro a year EU pension stopped for having brought the institution into disrepute.
There is no legal basis for the EU doing that.
The petition, which is claimed to have been started by EU civil servants, accuses Barroso of "irresponsible" and "morally reprehensible behaviour".
It references Goldman Sachs' role in the US subprime and Greek economic crises and says Barroso job choice is "a disastrous symbol" for the EU and "a gift horse for europhobes".
The current commission president Jean-Claude Juncker and French President François Hollande have also both criticised Barroso's move.
"It's not about Europe, it's about morality. Legally, it's possible, but morally, it's about the person, it's morally unacceptable," Hollande said in July.
At about the same time Juncker told Belgian newspaper Le Soir: "The fact that Barroso works for a bank doesn't bother me, but the fact that it's that one causes me a problem."
Barroso served as president of the commission, the EU's executive arm, from 2004 to 2014 and was prime minister of Portugal from 2002 to 2004.
He was hired by Goldman Sachs 20 months after stepping down, shortly after an 18-month "cooling off" period when ex-commissioners must seek clearance for new jobs to avoid conflicts of interest.
If Barroso's #GoldmanSachs move doesn't push EU_Commission</a> to crack down on <a href="https://twitter.com/hashtag/revolvingdoors?src=hash">#revolvingdoors</a>, nothing will: <a href="https://t.co/vozstsUjsO">https://t.co/vozstsUjsO</a></p>&mdash; CEO (corporateeurope) August 29, 2016