Al-Shabaab kill ten in Mogadishu restaurant attack
Comments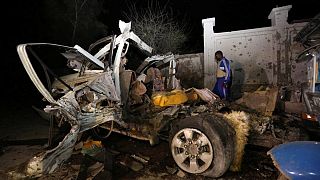 Al-Shabaab militants have killed ten people in a car bomb attack in Somalia.
They exploded a bomb in a car parked next to the Banadir restaurant which is beside a beach in the Lido area of the capital Mogadishu.
Afterwards the militants attacked people in the restaurant and fought the security forces for several hours.
Six civilians, two members of the security forces and two of the attackers were killed, police said.
A number of people who were injured, some of them seriously, were taken to a city hospital.
A spokesman for the city mayor, who spoke next to the destroyed car, claimed that the attack was successfully contained. "Our security forces foiled the attack as you can see behind me, the driver of the vehicles behind me has been apprehended, seconds after he detonated the blast," said Abdulfatah Halane.
Security elites captured one of the attackers of Banadir beach restaurant. https://t.co/3M0Qpdro3qTheVillaSomalia</a> <a href="https://t.co/ZeXSZYQcoy">pic.twitter.com/ZeXSZYQcoy</a></p>&mdash; SOMALI NEWS AGENCY (SONNALIVE) August 25, 2016
In a separate incident in the south of the country, a roadside bomb planted by al Shabaab injured 10 people, police said.
One of those wounded in the explosion in Baardhere town in Gedo region was the local district commissioner, police said.
The al Qaeda-linked al Shabaab group has carried out a series of deadly attacks to try to topple Somalia's Western-backed government.
The militants were driven out of Mogadishu in August 2011 but remain in force in the south.