Trumps claims Obama "lied" about cash for Iran's US prisoners
Comments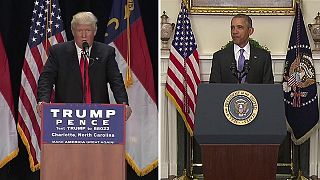 The US State Department has admitted for the first time that a 400 million dollar cash payment made to Iran ordered by a tribunal was withheld until four US prisoners were released.
The men were released in a prisoner exchange following the 2015 deal on Iran's nuclear programme. The State Department insisted it had been a snap decision.
"When you're inside that 24 hour period and you already now have concerns about the endgame in terms of getting your Americans out, it would have been foolish, and prudent, irresponsible, for us not to try to maintain maximum leverage," said spokesman John Kirby.
President Barack Obama announced in January the release of the money, frozen since 1981, an action ruled illegal by the US-Iran Hague Claims Tribunal, plus 1.3 billion dollars interest.
The electioneering presidential hopeful Donald Trump says it is more proof Obama is dishonest.
"He denied it was for the hostages but it was. Just came out. He said 'We don't pay ransom,' but we did. He lied about the hostages, openly and blatantly," he said at his latest rally.
The Republicans are hammering away at what they see as the Democrats' foreign policy failures with Donald Trump insisting candidate Hillary Clinton will just deliver more of the same, and insisting there are dangerous secrets behind that Iran deal.