Trump and campaign manager Paul Manafort part ways
Comments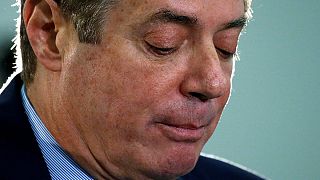 Paul Manafort, the man hired by Donald Trump to lead the effort to make him president of the United States, has quit.
The Ukrainian stuff was becoming a real distraction

Republican strategist
No reason has been given for the veteran election campaign manager's departure, but it comes just days after Manafort was effectively demoted in a shake-up of Trump's team as he slipped behind Democratic candidate Hillary Clinton in opinion polls.
In a statement, the Republican party candidate called Manafort a "true professional" saying he appreciated his great work, but there may have been a clash of personalities as Manafort tried -unsuccessfully – to reign in Trump's freewheeling campaigning style.
The Ukraine connection
Trump was also reportedly unhappy over revelations about Manafort's past work for the former pro-Russian government in Ukraine.
Serhiy Leshchenko, a Ukrainian MP and former investigative journalist has just published several pages of the once-secret accounting documents of Ukraine's pro-Kremlin party.
They purport to show payments of $12.7 million earmarked for Manafort.
Leshchenko said: "Systematically, for many years, he has been receiving corrupt, black money from (Viktor Yanukovych's) Party of Regions. We have obtained documents that unfortunately can't be shown because it's a secret investigation."
Our investigation of payment to #Manafort by the Kremlin-backed ex Ukrainian leader Viktor Yanukovich via Reuters</a> <a href="https://t.co/Rlsi9gnitF">https://t.co/Rlsi9gnitF</a></p>&mdash; Leshchenko (Leshchenkos) August 19, 2016
Manafort's political advisors helped Kremlin-backed former Ukrainian leader Viktor Yanukovych get elected there.
It is now being claimed he secretly routed at least $2.2 million to two Washington lobbying firms, which would be illegal under US law.
AP sources: Trump campaign chairman helped pro-Russian governing party in Ukraine route funds to DC lobbying firms. https://t.co/QwtJ5OkeYF

— The Associated Press (@AP) August 17, 2016
Emails obtained by The Associated Press show that a firm run by Manafort directly orchestrated the covert lobbying operation on behalf of the Party of Regions, attempting to sway American public opinion in favour of Yanukovych's government.
The lobbying included attempts to gain positive media coverage of Ukrainian officials in The New York Times, The Wall Street Journal and The Associated Press.
Another goal was to undercut American public sympathy for Yulia Tymoshenko, an imprisoned rival of then-President Yanukovych.
At the time, European and American leaders were pressuring Ukraine to free her.
Manafort has denied any financial wrongdoing.