Being a mother and refugee at Jordan's Zaatari camp
Comments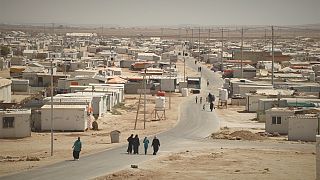 Being a mother or a refugee can be tough enough, but what is it like to be both? To be a mum in an environment where there is trauma, violence and child marriage.
Euronews' Aid Zone has visited Jordan's Zaatari camp, where risks linked to pregnancy and giving birth have been reduced – establishing a secure environment around new mothers.
Zaatari – a refugee town
Zaatari is Jordan's largest refugee camp. It opened in 2012 to host Syrians fleeing the war.
Today over 81,000 people live at the site and two-thousand women are pregnant at any time in the camp.
Etemad – expectant refugee mother
Etemad, who is 29, is one of the women currently pregnant at Zaatari. She is from Deraa in Syria, a dozen kilometres away from the Jordan border, and is four months pregnant.
"This is my fifth pregnancy. My children are fine. I had my last two here," said Etemad Khair Al Deen.
"I think if I had had my latest one in Syria he would have died, especially considering the present situation."
Etemad has a high risk pregnancy, having suffered complications before.
Health clinic
Etemad is monitored at the UNFPA Reproductive Heath clinic run by the Jordan Health Aid Society NGO.
"We have between 100 and 120 patients per day. Among them between 70 and 80 are pregnant women. During the first three months we see them monthly, every two weeks during the second trimester, and from 36 weeks, we see them weekly until they give birth," explained Rima Diab, Head, Reproductive Health Clinic, UNFPA.
The clinic opened in 2013.
It is part of one of several UNFPA supported centres partially financed by the EU Department of Humanitarian Aid.
The facility today can assist four women giving birth at the same time.
There have been more than 5,500 deliveries in three years.
"We have an average of 10 deliveries per day in the camp. Eight are normal deliveries, two are cesareans, which are referred to the Moroccan hospital in the camp," said Shible Sahbani, Humanitarian Coordinator, UNFPA.
Ward is the 5,676th baby born in Zaatari since the clinic opened.
Here, the birth rate is higher than in Jordan and not a single new mother has died.
Ward is the first baby for his 20 year old mum, and she will be monitored for a day or so to look out for any complications.
In the first hours after women give birth, the staff introduce hygiene measures and discuss family planning – so that women might, for example, consider spacing out pregnancies more.
"After any crisis, after catastrophes and wars, populations are prone to having more pregnancies in order to balance the losses they've had during wars," explained Shible Sahbani, Humanitarian Coordinator, UNFPA.
Women fleeing wars are often deprived of quality health services and forced to give birth in dangerous and unsanitary conditions.
The EU Department of Humanitarian Aid support for the UNFPA clinics is part of a wider European intervention for refugees in Jordan.
"The EU Humanitarian Aid has been here from the onset of the conflict allocated basically 250 million euros to assist Syrian refugees and the host communities," said Peter Biro, Regional Information Officer, EU Department of Humanitarian Aid.
He continued: "At any moment in Zaatari camp about 2,000 women are pregnant and 20,000 women and girls are in reproductive age. So it's a massive problem and there are huge needs."
.Euronews</a> shooting important story on <a href="https://twitter.com/eu_echo">eu_echo-funded programs assisting #Syria'n women & girls in #Zaatari camp. pic.twitter.com/2IgDVk7h9n

— Peter Biro (@Peter_Biro) June 30, 2016
Women in refugee camps are exposed to trauma, disease and gender based violence.
Forced child marriages are growing in the camp and 10 to 15 percent of mothers in Zaatari are under 18.
In a safe space, activities for girls focus on prevention.
"Some girls get married at 13 or 15. We use role play, like in the theatre, to rise awareness against child marriage and also to communicate these values to the family and the rest of the society," said Nadeen Aref Mayyas, Youth educator, UNFPA.
#zaatari camp is the biggest camp in Jordan, hosting around 81,000 refugees euronews</a> <a href="https://twitter.com/hashtag/AidZone?src=hash">#AidZone</a> <a href="https://twitter.com/eu_echo">eu_echopic.twitter.com/Wc5W4lNsKT

— Monica Pinna (@_MonicaPinna) June 30, 2016
Maternal health measures, health care services, psychological support and cultural activities aim to help mothers like Etemad – making more aware and giving them choices when it comes to raising their families, even as refugees.