Refugees in Greece learn to love the sea again
Comments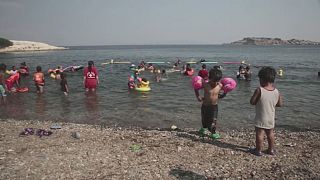 During the summer months, for many of us a quick paddle or dip in the sea hardly seems anything out of the ordinary.
But for refugee children on the Greek Island of Lesbos, going back into the water is not always easy – many have often suffered traumatic journeys.
One project is trying to change just that, by offering refugee kids swimming lessons.
''Their mothers had to force them in. We're here to help them get familiar with the water and we've managed to get all the children in the sea," Lia Stavropoulou a local lifeguard said.
Up to seventy children receive swimming lessons every day during the summer months on the island – others are just delighted to be safe from harm and on dry land.
Syrian asylum seeker Fatima Harriri said: ''Alhamdulillah (praise be to God), I am in Greece. I am very happy. In the sea (during the trip), I am crying sometimes but now Alhamdulillah (praise be to God). If I am coming here, I remember (the journey) and literally (start to) cry."
Around 1,500 migrants and refugees currently live on the Island of Lesbos – around sixty percent of those are children.
While refugee arrivals from Turkey to Greece have slowed dramatically since the EU struck a deal with Ankara earlier this year, nearly 60,000 people remain stranded in Greece.