Wildfires lay waste to mainland Portugal and Madeira
Comments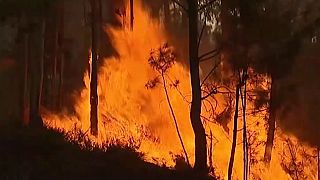 Firefighters battle hundreds of fires
Flames fanned by strong winds, high temperatures
How do you escape a wildfire? Read on.

Mainland Portugal
The authorities say around 3,000 firefighters are trying to extinguish hundreds of forest fires across the country.
Five of the fires in the north of the country are classified as major blazes that are out of control.
The fires spread quickly through the mostly pine and eucalyptus forests that are tinder-dry after weeks without significant rainfall.
On Monday, the National Civil Protection Authority said there were:
515 wildfires
1,060 vehicles
16 water-dumping aircraft

Madeira
Forest fires are raging on the hills above the city of Funchal.
At least 250 people have been evacuated from their homes.
A blaze has broken out in the nearby valley of Santo Antonio. A tyre factory in the area is in flames.
Conditions are difficult for firefighters, with trong winds and high temperatures.
What to do if you are caught in a wildfire
Know your evacuation route ahead of time
Prepare emergency supplies
Prepare your house – close windows and doors, shut off gas and fuel, fill pools etc with water to slow the fire down
Evacuation
:
Don't try to outrun the blaze. Look for a body of water like a pond or river to crouch in.
If there is no water nearby, find a clear area and lie on the ground. Cover yourself with wet clothing, a blanket or soil until the fire passes or rescue comes.
Protect your lungs by breathing close to the ground and through a damp cloth. Try to avoid inhaling smoke.
(Source: National Geographic)
In tweets
Here are some more photos of the equipment we've sent to Portugal, where 9 out of 10 firefighters are self funded pic.twitter.com/tHhbFAz1Gs

— South Yorkshire Fire (@SYFR) August 8, 2016
The equipment the UK's South Yorkshire Fire Brigade has sent to Portugal to help tackle the fires.
Good Morning, Bom Dia from a smoky Northern Portugal. Spare a thought for the bombeiros, fighting many wild fires. pic.twitter.com/OumNKxPMUw

— Angloinfo Lisbon (AI_Lisbon) <a href="https://twitter.com/AI_Lisbon/status/762969680290209792">August 9, 2016</a></blockquote> <script async src="//platform.twitter.com/widgets.js" charset="utf-8"></script> </p> Smoke hangs over Porto <p> <blockquote class="twitter-tweet" data-lang="en"align="center"><p lang="en"><p lang="en" dir="ltr"><a href="https://twitter.com/hashtag/Forest?src=hash">#Forest</a> <a href="https://twitter.com/hashtag/fires?src=hash">#fires</a> strike southern <a href="https://twitter.com/hashtag/Portugal?src=hash">#Portugal</a> after devastating north <a href="https://t.co/OXGDTScTVy">https://t.co/OXGDTScTVy</a> <a href="https://t.co/UCRhccEWIw">pic.twitter.com/UCRhccEWIw</a></p>&mdash; The Gulf Today (thegulftoday) August 9, 2016