Turkish protests in Washington and Serbia
Comments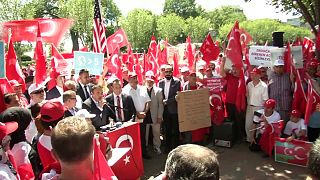 Hundreds of Turkish demonstrators in the US gathered outside the White House on Sunday in support of the Turkish government.
They called for the US to extradite cleric Fethullah Gulen, who the Turkish president holds responsible for last month's failed coup.
"We just want to make sure everyone knows that Fethullah Gulen basically has done very bad things to Turkey and the people," said one protester.
Meanwhile, in Serbia, hundreds of Turks attended a rally in support of the Turkish government. Calling it a 'pro-democracy' rally, they were given the support of the main Bosniak parties.
Since the failed coup, Turkish authorities have detained and sacked tens of thousands of people, including journalists, police officers, doctors and judges, accusing them of having ties with Gulen.