Russian paralympic ban is 'grave human rights abuse'
Comments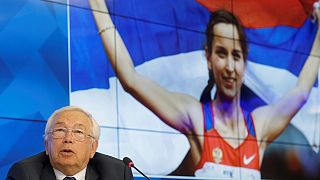 The head of the Russian Paralympic Committee (RPC) said a decision to suspend Russian athletes from next month's Paralympics was "a grave human rights abuse."
Vladimir Lukin told a news conference he was ready to provide evidence that the Russian team had run a tight anti-doping programme.
In the meantime, he said the Russian Paralympic team will continue preparing for the games.
"Over the period of more than three years, either 35 or 20 doping samples have been found but they have disappeared and the names [of Para-athletes] are not given. However, a decision was made on this ground to suspend the RPC's membership. This means an actual ban on our athletes to compete at the Paralympics," Lukin said.
Human rights violation
"We are currently considering the kind of arbitration we need. Investigation of doping cases should be continued but it should not turn political. It is necessary that innocent athletes fulfill their rights to take part in the Paralympics. Otherwise it will be a flagrant violation of human rights," Lukin said.
The blanket ban on Russian athletes has been imposed by the International Paralympic Committee (IPC).
Its decision comes in the wake of a report of the World Anti Doping Agency (WADA) led by Canadian lawyer Richard McLaren which alleged that Russia had operated a state-controlled doping programme.
World Archery disagrees with ban
The international body for archery said in a statement on Sunday (August 7) that the decision was made for political reasons and contravenes the main principal of the Paralympic movement.
"World Archery strongly disagrees with the ban, which goes against the principles of inclusion and fair play, and considers the decision to have been taken based on a report that is unfinished and should remain ongoing until its mandate is completed, as stated by the IOC and WADA.
"World Archery has discussed the ban with other affected Olympic federations.
"The IPC's decision was taken without any proper consultation with relevant federations responsible for the sports at the Paralympic Games, and against the best interests of federations."
World Archery's sentiments were echoed by Moscow resident Elena Smirnova.
"It is clear why this happens," said Smirnova. "This is politics. And when politics is mixed with other spheres of life – culture, sport – it is outrageous. What can we do? Well, nothing. Maybe the only thing to do would be to simply boycott this Olympics, maybe this is not the right thing to do – but that's what I think."
Russia announced that it would appeal against the ban in court.