France seeks extradition of student cleared over Charlie Hebdo attacks
Comments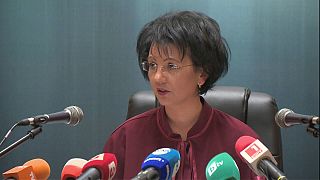 France has requested the extradition of a French citizen from Bulgaria to face charges of activities related to terrorism.
Twenty-year-old Mourad Hamyd, a relative of one of the militants who attacked the French satirical magazine Charlie Hebdo, was first detained in Turkey where he was refused entry after travelling from Serbia through Bulgaria, according to a spokeswoman for Bulgaria's chief prosecutor.
"Through our international channels we received information that the person was a traveling ISIL fighter and is considered to be especially dangerous," said Rumyana Arnaudova.
"The reason for the European arrest warrant from the French state is that the person was allegedly involved in activities connected with terrorism, and is suspected of participating in an organized criminal group for organizing terrorist acts."
---
Bulgarian prosecutors: Mourad Hamyd a 'real, present and serious' threat to… https://t.co/Lq44Zmx6iJpic.twitter.com/SRdXs17niJ

— The Sofia Globe (@TheSofiaGlobe) August 8, 2016
---
Hamyd Mourad: 5 Fast Facts You Need to Know https://t.co/xIM0fPI038

— Prof. D.A.H. Vintik (@Prof_DAH_Vintik) August 8, 2016
---
Mourad Hamyd Timeline
On July 25, Hamyd was reported missing by his sister in France. He was already being monitored by French security services, as he was suspected of terrorism offences.
Hamyd entered Bulgaria from Serbia on July 26, stating tourism as the reason for his one-week visit to Bulgaria. He had been travelling alone, with only personal luggage.
Arnaudova said that on the night of July 28, Hamyd appeared at the Kapitan Andreevo checkpoint to cross into Turkey. Bulgarian authorities allowed him to pass, as he had no travel ban, but he was refused entry into Turkey because he was subject to a five-year entry ban by Turkish authorities.
The head of Bulgaria's State Agency for National Security was then informed, and on July 28 he issued an order for Hamyd to be deported to Serbia.
Meanwhile, on July 29, the European Arrest Warrant that was sent from French authorities was received by the Bulgarian side, and Hamyd was taken into 72-hour custody.
On August 2, Sofia City Court ordered him to be held in custody.
A court in Sofia will hold a hearing on a European Arrest Warrant issued against him on Wednesday (10 August).
Cleared after Charlie Hebdo attacks in Paris
Hamyd was briefly detained after the Charlie Hebdo attacks but released without charge. He had a strong alibi: he had apparently been studying in school when the attacks were carried out.
He told AFP news agency at the time that he was a normal high school student who lived quietly with his parents.