"We are more united than ever" - Trump
Comments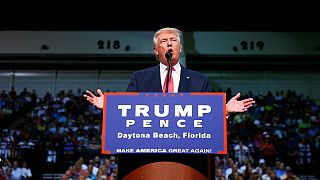 Trump insists his campaign is united
Senior Republicans are questioning its tone
Hillary Clinton gets post-convention boost in polls
Donald Trump is insisting his White House campaign is not "in turmoil" after reports that senior Republican Party leaders are questioning its tone.
I just want to tell you the campaign is doing really well. It has never been so well united!
Speaking at a supporters' rally in Florida, Trump said:
"I just want to tell you the campaign is doing really well. It's never been so well united. We started on June 16. I would say right now is the best in terms of being united that it's been since we began. We're doing incredibly well. We're leading in the state of Florida. You saw the polls."
After denying there were deep divisions in his campaign, Trump turned the focus on his Democratic rival, Hillary Clinton.
"Look what's going on folks. We're like a third world nation. And then you get back to crime. You see what's happening with the police. Take a look at Orlando, take a look at San Bernardino, Take a look at the World Trade Centre, take a look at what's going on and then worldwide.
We let Isis take this position. It was Hillary Clinton. She should get an award from them as the founder of Isis."
Claims of turmoil in the Trump campaign
Trump's White House campaign was described as "in turmoil" after he angered senior Republican Party leaders by criticising a dead soldier's family.
Trump has also refused to back the re-election campaign of House of Representatives Speaker, Paul Ryan.
Trump violates another political norm by refusing to endorse GOP stalwarts Ryan and McCain, ericawerner</a> writes. <a href="https://t.co/4NFNFeJ9Ig">https://t.co/4NFNFeJ9Ig</a></p>&mdash; The Associated Press (AP) August 3, 2016
The property tycoon refused to endorse both Ryan, the most senior elected Republican, and Senator John McCain in their coming primary contests.
Commentators say this was a swipe at the Republican leadership who have taken him to task for his insistent public dispute with the parents of a Muslim US Army captain killed in the Iraq war.
Humayan Khan
Ghazala and Khizr Khan Delivered a Message About Their Son but Also About America https://t.co/9dmjXzmf5Mpic.twitter.com/XTxxCqoTZF

— Cosmopolitan (@Cosmopolitan) August 3, 2016
Trump is involved in a running dispute with the parents of Army Captain Humayan Khan.
Khizr and Ghazala Khan took to the stage at last week's Democratic National Convention. Citing the sacrifice of their son, who was killed by a car bomb in 2004, they criticised Trump's proposal to tackle terrorism by temporarily banning Muslims from entering the US.
"I was Capt. Khan's commander in Iraq. The Khan family is our family." https://t.co/Y1myW1WGjN via PostOpinions</a></p>&mdash; Washington Post (washingtonpost) August 3, 2016
Senior Republican figures, including Ryan, McCain and Trump's longtime ally, New Jersey Governor Chris Christie, have criticised his attacks on the soldier's parents.
Deep divisions denied
A senior Trump aide has also denied claims that the property billionaire's presidential campaign is riven by deep divisions.
"The campaign is in very good shape. We are organised, we are moving forward", the BBC has quoted Paul Manafort as saying on Fox News.
Trump himself took to Twitter to deny claims of damaging divisions in his campaign:
There is great unity in my campaign, perhaps greater than ever before. I want to thank everyone for your tremendous support. Beat Crooked H!

— Donald J. Trump (@realDonaldTrump) August 3, 2016
If they wanted to, could the Republicans just dump Trump?
No.
Presidential candidates have to decide to go voluntarily. There is no formula for forcing a candidate to withdraw from the race for the White House.
Rule Number 9 in the party's statute describes this as by reason of "death, declination or otherwise".
Donald Trump has given no indication that he plans to withdraw.
Supposing the candidate does leave voluntarily. What happens then?
The 168 members of the party's National Committee would gather to choose a successor.
The pressure would be on, however. After choosing a successor, the replacement nominee's name would have to go on the ballot in each US state.
Or, at the very least, in enough states to stand a chance of winning the election in November.
(Source: ABC News)
Who is Donald Trump?
Property tycoon
Former reality TV star
Has won support from those who feel neglected by the political establishment
Plans include a ban on Muslims, building a wall along the Mexican border to keep illegal immigrants out and renegotiating trade agreements

How is this playing into the Democrat campaign?
On Tuesday, Democratic President Barack Obama unleashed his strongest attack yet on Trump.
Obama ridicules Republicans for sticking with Trump https://t.co/rF0qyiYxVI | Getty pic.twitter.com/WIVMOZScMB

—

POLITICO

(@politico) August 3, 2016
Obama labelled Trump as "unfit for office" and asked Republican leaders why they continue to endorse him, given their repeated criticisms of his behaviour.
Opinion polls suggest Hillary Clinton is benefiting from a boost after her party's convention last week.
The RealClearPolitics average of recent polls put her 4.5 percentage points ahead of Trump, at 46.5 percent to 42 percent.