1,000 migrants cross the Med to Italy since Tuesday
Comments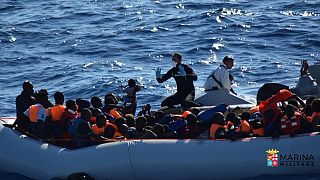 Around 1,000 migrants have arrived in Italy from North Africa in the last three days.
Italy remains on the front line of a migrant crisis now in its third year. More than 251,000 migrants have crossed the Med since the beginning of 2016.
The majority of migrants arrive in Italy from Africa. Sixty percent do not qualify for refugee protection.
This week the Italian interior ministry launched an awareness campaign to discourage would-be migrants in sub-Saharan and the north of Africa from travelling to Europe.
Video testimonies in English, French and Arabic warn of the dangers they could face as the number of arrivals and deaths climb.
The International Organisation for Migration, who helped fund the project, says 3,000 people have died in the Mediterranean so far this year.
It says Italy has taken in about 90,000 newcomers in 2016.
Almost 140,000 asylum seekers are being housed in shelters around the country.
The country's interior minister said often migrants who have made the trip do not tell their friends about their suffering to save face because they spent a lot of money on the journey.