Farewell Philae: Communication cut to Rosetta's probe for final time
Comments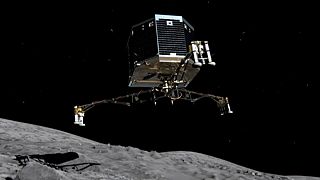 The first space probe to land on a comet has had its communications cut with Earth for the final time.
The European Space Agency (ESA) has turned off the electrical support system on the Rosetta spacecraft, which relays messages from the probe, Philae.
Robot lander Philae made space history on November 12, 2014, when it touched down on the surface of Comet 67P.
Communication breakdown
Philae has been in and out of touch since 2014 and the decision to turn off communication systems was taken in order to conserve power on its mothership, Rosetta.
"By the end of July 2016, the Rosetta spacecraft will be some 520 million kilometers from the sun, and will start facing a significant loss of power," said ESA science writer Claudia Mignone. "In order to continue scientific operations over the next two months and to maximize their return, it became necessary to start reducing the power consumed by the non-essential payload components on board."
After landing on the comet, Philae later lost contact with Earth because its solar panels were in the shade.
Last summer contact was reestablished, as the comet moved closer to the sun.
But space scientists have been left frustrated over establishing a stable connection with Philae – a factor in the decision to turn off communication system permanently yesterday (July 27).
The Philae mission was designed to study a comet up close, in the hope it will provide vital clues about the original materials that went into building the solar system.
Following in Philae's footsteps
Rosetta itself will follow its Philae lander in landing on the Comet 67P, when its mission ends on September 30.
ESAsays the final hours of descent will allow the spacecraft to make "many once-in-a-lifetime measurements, including very-high-resolution imaging, boosting Rosetta's science return with precious close-up data achievable only through such a unique conclusion".
Saying goodbye
Meanwhile the German Space Agency (DLR) is inviting the public to say goodbye to Philae – who has 448,000 followers on Twitter via its @Philae2014 handle – up until August 8, using the hashtag #GoodbyePhilae
Farewell Philae2014</a>, the 1st robot to land on a comet. Congrats <a href="https://twitter.com/esa">ESA for this amazing achievement. #GoodbyePhilaehttps://t.co/DfiO0SekSn

—

NASA

(@NASA) July 27, 2016
#GoodbyePhilae – Thanks for doing something amazing and not being smug jerk about it like some amazing Mars rovers I know.

— SarcasticRover (@SarcasticRover) July 26, 2016
It's time for me to say goodbye. Tomorrow, the unit on ESA_Rosetta</a> for communication with me will be switched off forever...</p>&mdash; Philae Lander (Philae2014) July 26, 2016
Astronaut Megan McArthur & #neemo21 crew wish farewell from sea bottom #GoodbyePhilaeesa</a> <a href="https://twitter.com/ESA_EAC">ESA_EACDLR_en</a> <a href="https://twitter.com/DLR_de">DLR_depic.twitter.com/3uFoqDe51Y

— Matthias Maurer (@Explornaut) July 28, 2016
Dear Philae2014</a> <a href="https://twitter.com/hashtag/GoodbyePhilae?src=hash">#GoodbyePhilae</a>! Slumber peacefully: we&#39;ll remember you for a decillion years. Love, The Voyagers. <a href="https://t.co/U5NlABvYOt">pic.twitter.com/U5NlABvYOt</a></p>&mdash; NSFVoyager2 (NSFVoyager2) July 26, 2016
Philae farewell – photo gallery