Anti-Maduro protesters in Venezuela march to demand referendum
Comments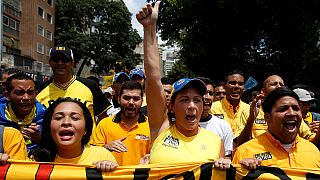 Thousands of opposition protesters in Venezuela have marched to demand a referendum which would oust President Nicolas Maduro from power.
They blame him for a long recession, the world's highest inflation, and shortages of basic items in the shops.
They say the National Electoral Council was supposed to have ruled by now on whether the opposition had enough signatures to continue the process towards a mid-term vote.
"If there is not a solution, anything could happen. This is a very dangerous situation that no one wants. That's why we are here asking for a solution that is in the constitution and we continue fighting for a peaceful solution – but they cannot continue playing with the patience of the people. We want an answer," opposition leader Henrique Capriles told the demonstrators.
The electoral council later said it would give its decision next Monday (August 1).
The timing is important because if Maduro loses a referendum this year there would be a new presidential election. If he loses a vote after January he would be replaced by his vice-president until the next presidential election, due at the end of 2018.
President Maduro, who blames falling oil prices and his opponents for the country's crisis, has vowed there will be no referendum.
Government supporters accuse the opposition of falsifying signatures to trigger a referendum.