Around the world in 11 days - in a hot air balloon!
Comments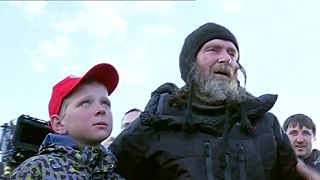 Russian adventurer Fedor Konyukhov has landed safely in West Australia after setting a new world record for circumnavigating the world solo in a hot air balloon.
The 64-year-old emerged after spending more than 11 days in the air and expressed his appreciation for the smell of earth, saying "how wonderful it is."
Konyukhov smashed the previous record of 13-and-a-half days, set in 2002 by the late Steve Fossett.
#FedorKonyukhov suffered a slight cut to his face during the landing but otherwise home safe and sound perthnow</a> <a href="https://t.co/QDmkousjBW">pic.twitter.com/QDmkousjBW</a></p>&mdash; Dani Le Messurier (danilemess) 23 July 2016
During the journey, the Russian balloonist flew as high as 10,000 metres and dealt with extreme temperatures – as low as 56 degrees Celsius that caused his oxygen masks and drinking water to freeze.
Konyukhov embarked on his epic journey from Northam in Western Australia on 12 July and set the record of just over 11 days when he passed above the township 100 kilometres northeast of Perth.
Mind boggling that #FedorKonyukhov flew back over the EXACT spot on planet Earth that he took off from! pic.twitter.com/JN2w8Pvr3x

— Peter Doherty (@PeterDoherty7) 23 July 2016