Hungary resists foreign workers amid labour shortages
Comments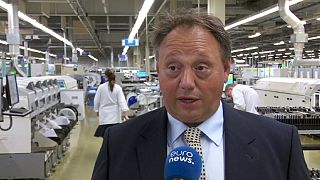 Hungary – despite having a labour shortage and one of the lowest birth rates in Europe – is resisting foreigners working there.
The government is also to hold a referendum against plans by Brussels for EU member countries to take in a mandatory quota of migrants; in Hungary's case around 120,000.
The Confederation of Hungarian Employers and Industrialists – which goes by the acronym MGYOSZ – says at least a quarter of Hungarian firms are having trouble finding suitable workers.
Péter Lakatos, CEO of electronics firm Videoton Holdings, and a vice president of MGYOSZ, explained: "Right now in many places there is a shortage, not just of those with specific skills, like welders, or machinists, chefs or waiters, but also semi-skilled workers who are on production lines and who over time can be trained to increase their skills, even those can't be recruited in sufficient numbers."
Faced with those kinds of problems there may be signs of a change of heart from the government which has now said it will consider an MGYOSZ proposal to allow more foreign workers, even as it erects billboards ahead of October's referendum saying 'Send a message to Brussels' and urging a vote against the migrant quotas.
Ágnes Hárs, a researcher at the social policy think-tank Kopint-Tárki told Euronews at least the issue is being talked about: "This is one part of a very complex problem. If in some small way it relaxes the strong, anti-migrant policy then that would be progress, but I don't think that it will achieve the economic aims that it is trying for."
One reason Hungary cannot meet its labour needs is the large numbers who take advantage of free movement within the EU.
From a population of 10 million, 400,000 have left to work abroad since 2008, with Austria, Germany and Britain the most popular destinations.
Our correspondent in Budapest, Andrea Hajagos, concludes: "If in the end the government does come round to allowing foreign workers, experts say the question is how many people would actually come given how low wages are and the Hungarian government's anti-migrant stance."