Erdogan demands US extradite Gulen
Comments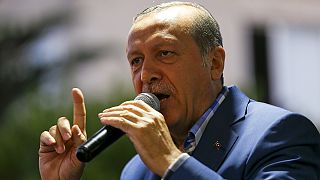 Just hours after surviving a coup attempt Turkey's president Tayyip Erdogan has
blamed his arch-enemy Fethullah Gulen and demanded the US extradite him.
Gulen is an Islamic scholar who lives in Pennsylvania where he runs a movement that has a far reaching but difficult to trace influence throughout Turkey's state apparatus.
His movement preaches a tolerant form of Islam, for instance he's urged his followers to build schools rather than mosques.
Only hours before Gulen had suggested that the coup was actually staged by Erdogan to give him an excuse to purge his political opponents.
Erdogan has indeed been quick to purge both the army and the judiciary of thousands of his opponents since the coup attempt failed.
"I told you that these people were attempting a coup but you didn't listen," Erdogan told the crowd of supporters in Istanbul.
"Now today after this coup attempt I say one more time: Give this person in Pennsylvania to us. If we are strategic partners, if we are model partners, then please comply with our request. My call is to the US. Whoever you asked from us to give back to you as a terrorist we will give them. Now it is your turn to give us back this person who is on our terror list."
Erdogan has repeatedly accused Gulen of trying to overthrow him and without any success repeatedly demanded that the US extradite him.