Pokemon Go "catches 'em all" as augmented reality game takes world by storm
Comments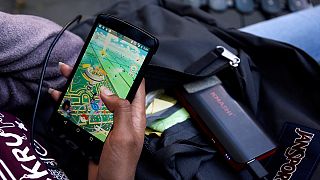 If you were born before 1984 you may have been slightly baffled by all the talk and media coverage of Pokemon Go. It is a follow on from previous Pokemon games and is taking the world by storm.
It has had more download than Tinder, more time spent on it than on Snapchat, Whatsapp or Facebook messenger.
Pokemon Go is an augmented reality game and here's a brief catch up on the brand.
Pokemon is a Nintendo franchise which was launched in the 1990s. In its world "trainers" travel the world to catch varied monsters called Pokemon – rats, dragons and the like – and use these critters to fight each other.
The trainer's goal is to "catch 'em all" as the franchise's slogan suggests and to become a Pokemon master by defeating prestigious trainers known as Gym leaders and Elite Four.
Unlike previous Pokemon games this latest one is not for Nintendo's hand-held consoles but is a free download for Android and iOS devices.
The goal in the game is still to "catch 'em all" but as an augmented reality one it mixes real-world elements with the game.
Its instant success can be put down to a number of factors. It is free which makes it easy to pick up. It is new and exciting and as one commentator pointed out it realises a vision Pokemon fans have had since the series came out: what if Pokemon were real and inhabited our world?
It's been called a global phenomenon but is on limited release.In fact it was first launched only in the US, New Zealand and Germany. Worldwide release has been postponed to avoid problems. While it has just been released in the UK.
Shares in the Japanese company Nintendo have seen a stellar rise since the release of the game gaining more than 50 percent.
Massive shocker – "Pokemon GO" hit Number 1 on US iPhone revenue in half a day. This simply does not happen. pic.twitter.com/ZjHNzcZgFc

— Tero Kuittinen (@teroterotero) July 8, 2016
Various stories have emerged since its launch including one which said an American woman found a dead body while she was looking for a Pokemon in a river near her home. Police said the man had died within the last 24 hours and no foul play was suspected.
Gotta catch em all #PokemonGOhttps://t.co/b7YNVrPubq

— Shit Filipinos Do (@filipinoposts) July 10, 2016
Pokemon GO is just insane right now. This is in Central Park. It's basically been HQ for Pokemon GO. pic.twitter.com/3v2VfEHzNA

— Jonathan Perez (@IGIhosT) July 11, 2016
Critics and users have been online to give their opinions.
A good experience but not maybe a good game says one review.
Another suggests it is not the very best
Nintendo, which is also behind the iconic Super Mario game, has traditionally relied on sales of its gaming consoles. But sales of those have been slowing in recent years as more gamers move online and onto portable devices.
Analysts have long criticised the company for lagging behind its rivals like Sony and being late into the game in catering for the smartphone. With Pokemon Go it can indeed aim to "catch 'em all"..the gamers that is.