Pamplona: 2016 running of the bulls comes to an end
Comments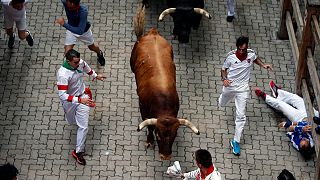 The controversial running of the bulls has come to an end for another year.
No one was killed on the final day in Pamplona, meaning the overall death toll stands at zero for this year's event in the north-eastern Spanish city.
No one was gored in the final run, either, although at least seven people suffered bruises.
This year's running of the bulls saw a total of 12 people gored – or stabbed by the animal's horns – a record high over the past decade.
Controversy
The event sees hundreds of men chased by bulls through the streets of Pamplona.
Despite authorities taking a zero-tolerance approach to sexual misconduct, there are reports of more than a dozen arrests on sexual assault charges.
Controversy also surrounds the slaughter of dozens of animals at each annual run.
Animal rights activists at PETA have held yearly protests at the start of the event since 2002 to demonstrate against cruelty.