Minnesota: Thousands pay tribute to Philando Castile
Comments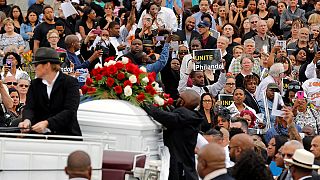 Families and friends of Philando Castile were joined by hundreds of mourners at the Cathedral of St. Paul in Minnesota, to pay their respects to the 32-year-old black man who was shot dead by a police officer one week ago.
His mother said she hoped to see 'praying for hope and reconciliation'.
A note from his sister included in the funeral programme said:
"My brother my hero, your heart was so pure and solid as gold … I love you forever and your legacy will continue to live on. You made history, you opened their eyes."
His death, streamed live on Facebook, sparked outcry and intensified debate over the excessive use of force and a history of racial discrimination by the police.
The family is calling for criminal charges against the officer, who has been placed on leave while the police investigate the shooting.
Waves of protests have taken place across US cities for Castile and Alton Sterling, another black man killed by police just days apart.