Philistines due a new image following 'sophisticated finds' at archaeological dig
Comments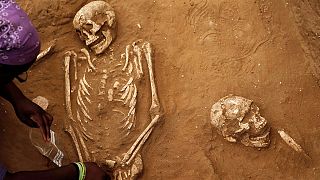 Researchers analysing a Philistine cemetery in Ashkelon in Israel say the ancient biblical people may have to be reassessed as being far more cultured than once thought.
One hundred and forty five sets of remains have been discovered, some surrounded by surprisingly sophisticated items including perfume, jewellery and weapons.
For years archaeologists have searched for the origins of the Philistines. A new discovery now gives more clues https://t.co/I8JzHAmev0

— Harvard University (@Harvard) July 11, 2016
Little was known about the Philistines prior to the recent excavation. The famed arch enemies of the ancient Israelites – Goliath was a Philistine – flourished in this area of the Mediterranean, starting in the 12th century BC, but their way of life and origin have remained a mystery.
The team also found DNA on parts of the skeletons and hope that further testing will determine the origins of the Philistine people.
"We may need to rethink today's derogatory use of the word philistine, which refers to someone averse to culture and the arts, said archaeologist Lawrence Stager, who has led the Leon Levy Expedition to Ashkelon since 1985.
The archaeologists also discovered some cremations, which the team claim are rare and expensive for the period, and some larger jugs containing the bones of infants.
"The cosmopolitan life here is so much more elegant and worldly and connected with other parts of the eastern Mediterranean," Stager said, adding that this was in contrast to the more modest village lifestyle of the Israelites who lived in the hills to the east.
Final reports on the finds are being published by the Semitic Museum at Harvard University.