Egypt urges 'two state solution' to Israeli-Palestinian conflict
Comments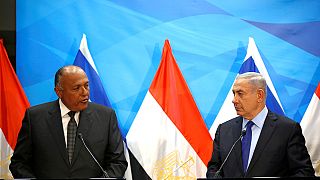 Egypt's foreign minister has urged Israel to consider a two state solution to the Israeli -Palestinian conflict. On his first visit to Jerusalem Sameh Shoukry offered Cairo's help in reviving peace talks.
In a press conference he called for confidence-building measures that could lead to renewed peace negotiations that collapsed in 2014.
Sameh Shoukry's visit for talks with Israeli Prime Minister Benjamin Netanyahu was the first made by an Egyptian foreign minister in nine years.
In May Egyptian President Abdel Fattah al-Sisi urged both sides to seize the opportunity to make a historic peace, offering Israel the prospect of warmer ties if this were achieved.
Sisi offered the 2002 Arab peace initiative as a potential way ahead. The initiative offered full recognition of Israel but only if it gave up all land seized in the 1967 Middle East war and agreed to a "just solution" for Palestinian refugees.
Netanyahu has said he would be willing to discuss the Arab peace plan but that changes would have to be made.
Shoukry's visit comes as France leads a renewed push to put peace efforts back on the agenda with an international peace conference held on June 3. The French initiative seeks to bring the two sides back to the table by year-end and was welcomed by the Palestinians.
But Israeli officials have said only direct talks can end the decades-old conflict.