NATO summit opens in Warsaw aiming to stand firm against Russia
Comments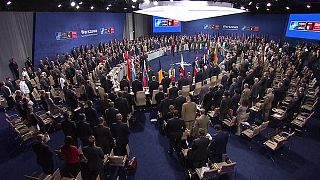 The NATO summit has got underway in Warsaw, aiming to show resolve amid a perceived threat from Russia.
The 28-nation alliance is expected to agree formally to send four battalions with 3-4,000 troops to the Baltic states and eastern Poland on a rotating basis.
Britain's Prime Minister David Cameron was expected to confirm the announcement that 650 troops would be sent to Estonia and 150 others to Poland.
The summit's aim: to reassure countries in the region that NATO is ready to defend them – while trying to avoid antagonising Moscow.
"Stability of the Euro-Atlantic region depends on security beyond our borders. While we should stand by our defence commitment, we must enhance cooperation with all partners, both in the eastern and southern neighbourhood. We are not surrounded by enemies, we are surrounded by challenges," said Polish President Andrzej Duda.
Ukraine is not a member of NATO but President Poroshenko has been invited and will meet allied leaders on Saturday.
President Obama has called for sanctions on Moscow to be maintained until it fully complies with a ceasefire agreement in Ukraine, and to help Kyiv defend its sovereignty.
The Baltic states and Poland fear Russia will seek to destabilise their pro-Western governments.
The Kremlin argues that talk of a threat from Russia is absurd and says it hopes "common sense" will prevail at the summit.