Taiwan and China prepare for Typhoon Nepartak
Comments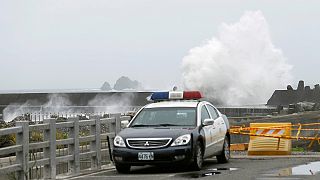 Taiwan and China have been preparing for Typhoon Nepartak that is expected to hit land early on Friday.
It has been labelled a category 5 storm on a scale of 1 to 5 by Tropical Storm Risk making it a super typhoon but should weaken to a tropical storm by the time it reaches China.
It is due to lose strength after hitting Taiwan's mountainous but sparsely populated east coast.
Taiwan's weather authorities estimated that wind speeds near Nepartak's centre were at least 200 kilometres an hour.
The island said companies, schools and the Taipei financial market would close on Friday.
Airlines began cancelling flights and the bullet train service was suspended.
China's Fujian province cancelled ferries to Taiwan and surrounding islands.
Fishing boats were told to return to port.
There are fears in China that the storm could worsen already severe flooding in the east of the country.