European Commission bows to pressure over trade deal with Canada
Comments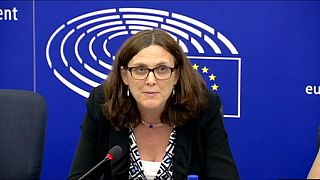 The European Union's free trade agreement with Canada has been put on a slow track for approval requiring ratification by the bloc's national parliaments. The move is a retreat by the EU Commission which hoped the deal would only need government-level support and a European Parliamentary vote.
"So now we call upon the member states who have all asked for this agreement, who have all welcomed it, to also show the leadership to defend it vis-a-vis their parliaments and their citizens because this is a very good agreement," urged European Trade Commissioner Cecilia Malmstrom.
All you need to know abt our proposal for signature&conclusion of EU-Canada trade deal #CETAhttps://t.co/gPZLjuRNnDpic.twitter.com/mZXef5nXEN

— European Commission (@EU_Commission) July 5, 2016
The deal would boost EU economic output by about 12 billion euros a year and increase EU-Canadian trade by about a quarter, according to EU estimates. As recently as February, the two sides envisaged that the Comprehensive Economic and Trade Agreement, or CETA, would take effect in 2017.
Canada says it remains confident the deal which reduces transatlantic barriers to business, will be supported despite increasing the risk of a veto amid an anti-globalisation backlash across Europe.
"I continue to be very, very optimistic about this," Canadian Prime Minister Justin Trudeau told reporters in Montreal. "The approach the EU is moving forward on is a positive one."
The decision is meant to address public suspicion about secretive trade deals only benefiting big companies. It follows the Uk's vote to leave the EU and warnings against bypassing lawmakers by countries such as Austria pointing out disenchantment with Brussels-based decision-making.
Ppl around the world are uniting to fight back against the global 1% to #StopTPPNow! (& similar deals #TTIP, #CETA). https://t.co/HP7nxUVqUl

— David Miller (@DavidMillerJ) July 5, 2016