Why Hungary has been one of the surprise packages of Euro 2016
Comments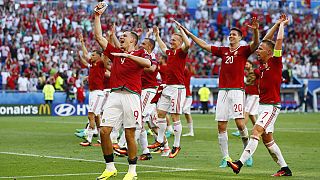 What a difference a couple of years can make. The Hungarian team that drew with Portugal 3-3 on Wednesday was almost the same one that was hammered by the Netherlands 8-1, in a World Cup qualifier two years ago. There are some in Hungary, on the back of the team's performances so far in France, that are talking about a new 6:3. Yet Hungary's success is much more a result of a new strategy, than having a new Puskas.
As a Hungarian journalist I have seen the Hungarian football being considered dead when almost two years ago the team suffered a humiliating defeat by Northern Ireland. Although quite a big amount of money had already been poured into the sport, there was little to show for it. Moral was low and there were calls for the head coach to be fired. Attila Pinter left shortly afterwards.
The aftermath of the 2-1 defeat to Northern Ireland saw a fresh new attitude kick in the door of the old fashioned 'hitting your head against the wall' philosophy of Hungarian football.
Pál Dárdai, capped 61 times by Hungary, was chosen as interim manager. He had 20 years' experience working in Germany. He later handed the baton onto Bernd Storck.
Both men represented a new era for Hungarian football, with all due respect to those who tried but failed to make the change earlier. This new dawn meant German precision for the Hungarian game, which had never seen anything like that before. Storck's obsession for the physical preparation meant the team were scoring last minute goals, rather than conceding them.
Just to give an insight into the previous era: decisions were based on nepotism or repaying favours rather professionalism; motivation at half-time would clichés like 'show them that you are better'; the reaction after a shameful defeat was often denial, like 'we were controlling the game'. There was no leadership, the head coach didn't know how to get the best from his players and there was a lack of team spirit. But one of the worst mistakes was misjudging players like Ádám Nagy, who was told at the age of 12 to forget about being a professional player. Yet Benfica are rumoured to be ready to pay 2 million euros for the 20 year old. Misjudging was sort of a common thread. Storck considers László Kleinheisler his best player, despite the fact he used to play at the third level in Hungary.
First Dárdai, then Storck tore up the rule book of Hungarian football. They have not taught these players how to play football. But they came with a projector, worked out tactics and a precise system to play. Dárdai showed the team exactly where they should be positioned to defend properly. Storck made them believe that they can achieve things: after 44 years they can qualify for the European Championship. And if it was needed he hugged the players, while addressing them 'Sirs'. He trusts Zoltán Gera to be the key player, in contrast Dárdai's predecessor.
Even the bad reputation built on the last decades' disappointments gave the Hungarian team some advantage: the players facing Hungary thought it would be an easy-ride.
Dárdai said recently: "It's always nice to have teams look down on us, as they have a few times so far. But we see every day that in football anything can happen.
Storck says there is no egoism, just a team, and this is perhaps Hungary's secret weapon.
There are also tens of thousands of supporters ready to give the players a boost, as they did during Hungary's 3-3 draw with Portugal. Incidentally, Portugal's Ronaldo is worth more than the whole Hungarian team!
For Hungary, getting to the knock-out stages is like winning the tournament for one of the bigger teams. Winning their group is already a huge success for Hungarians everywhere and many feel part of the triumph. It's given a boost to the whole country.