US Supreme Court ruling means illegal immigrants with US born children will be deported
Comments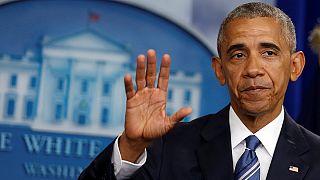 The Supreme Court of the United States has blocked President Obama's plan to prevent around four million illegal immigrants from being deported if they have US born children and haven't got a criminal record.
It is heartbreaking for the millions of immigrants who made their lives here

US President
Because the court was equally split in its vote a lower-court ruling from 2015 which invalidated Obama's plan will be left in place. He told reporters that the US immigration system has been broken for two decades and that the ruling will set it back even further.
"I think it is heartbreaking for the millions of immigrants who made their lives here, who've raised families here, who hope for the opportunity to work or pay taxes, serve in our military and fully contribute to this country we all love in an open way," he said.
The ruling, coming seven months before Obama's term in office ends, is the latest success that the Republican party has had in thwarting a major policy initiative of the Democrat president.
 
Obama had hoped that overhauling the immigration system and resolving the fate of the estimated 11 million illegal migrants in the US would be part of his presidential legacy.
The ruling is now likely to further amplify the role that the immigration issue will play in the presidential election campaign.
Republican presumptive nominee Donald Trump had already called for all illegal immigrants to be deported and he's claimed that he will build a wall between Mexico and the US if he is elected on November 8.
A split ruling was possible because the court was down to eight justices, four liberals and four conservatives, after conservative justice Antonin Scalia died in February.