US Democrats stage Congress "sit-in" to demand tighter gun controls
Comments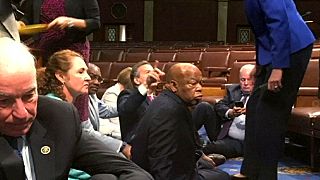 US Democrats have staged a "sit-in" on the lower house of Congress (House of Representatives) to demand that the chamber remain in session until Republicans agree to a vote on gun control legislation. The move follows the Orlando mass shooting.
Chanting "no bill, no break" the Democratic lawmakers began the protest around midday and have continued it well into the evening.
The extraordinary action triggered a recess and television cameras to be turned off. But for the first in Congressional history, lawmakers began broadcasting on social media.
At one point US Congress Representative from Pennsylvania Mike Doyle, addressed the camera saying: "You can help us win this battle, America. Call your representative up. Call these Republicans up on the phone and tell them: `We wanna vote!` America, you can win this battle tonight for us."
The protest has been lead by Representative John Lewis, a Democrat from Georgia and veteran of the 1960s civil rights movement.
Democrats protest as Republican leader tries to end gun control sit-in https://t.co/VOq5j8B1Lx

—

TIME

.com (@TIME) June 23, 2016
The Republican speaker of the House, Paul Ryan, dismissed the protest as a publicity stunt.
In the upper house Senators are pushing for a compromise, new legislation that would stop gun sales to a limited number of people who are on some terrorism watch lists.
Paul Ryan has said he will not bring a gun control vote in the House of Representatives.
"They know that we will not bring a bill that takes away a person's constitutionally guaranteed rights without…..due process."
"Shame, shame," Democrats shout as Ryan tries to bring order amid House floor sit-in on guns https://t.co/4FJlYRzv55pic.twitter.com/lYnBaiqo2l

— Chicago Tribune (@chicagotribune) June 23, 2016
But the Democratic protesters stayed in the chamber into the evening giving impassioned speeches and urging action before a break scheduled to begin this weekend until July 5, vowing to stay all night beyond any votes.
Guns are a potent U.S. political issue and Americans are on edge after mass shootings in recent years in Connecticut, Colorado, California and elsewhere. Congress has not passed major gun control legislation since 1994, with gun rights defenders saying such measures infringe on the constitutional right to bear arms.
The protest is continuing.