US Senate rejects new gun control measures
Comments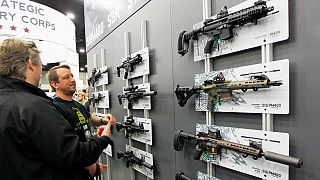 Four new gun control measures tabled in the wake of last week's mass shooting in Orlando have failed to pass in the US Senate.
In a familiar setback for advocates wishing to increase background checks and curb the sale of weapons to those on terrorism watch lists – the amendments fell short of the 60 votes needed to move to the next stage.
Democrat Senator from Maryland Barbara Mikulski said: "Why is it we would go through such incredible scrutiny to board an airplane to protect me against terrorist, and yet we have no scrutiny of the people on the terrorist watch to be able to buy a gun?"
Republican Senator Kelly Ayotte is working on a compromise bill to ban the sale of guns to terrorist suspects. Despite agreeing to support the Democrat's watch list amendment, in the end it was enough to pass.
"This is a gravely serious issue that requires a serious response. And there is a solution here and I'm committed to finding it. But to find that solution we have to come together instead of having competing proposals that have already mostly failed in this chamber when we took these votes back in December, let's put aside the gamesmanship and come together to get a proposal that will be effective and get a result for the American people," Ayotte said.
Despite that, many other Republican Senators continue to argue that without 'due process', law-abiding US citizens wrongly named on so called terrorism watch lists would be prevented from buying guns.