Israel admits mistakenly killing Palestinian bystander said to be '15-year-old boy'
Comments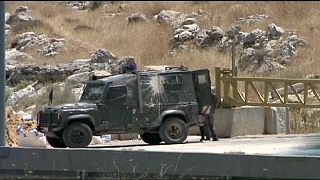 The Israeli military says it mistakenly killed a Palestinian bystander while responding with gunfire to a petrol bomb and rocket attack in the occupied West Bank. An investigation has been launched.
The mayor of the village the Palestinian came from said he was a 15-year-old boy. An earlier military statement from Israel described the Palestinian as an assailant.
The teenager's father said his boy was killed in cold blood while he was on a trip with his cousins.
"When we arrived on the scene of the crime the Israelis refused to allow the Palestinian ambulances to get through, the injured were left bleeding on the ground and Mahmoud died. When we tried to get closer the Israeli troops aimed at us and wanted to shoot. There were around 100 of us," Rafat Badran said.
The head of the local council of the Palestinian village of Beit Ore-Tahta said the teenager killed was in a car with other passengers returning from another village when they came under fire.
The Israeli military says several Palestinians threw petrol bombs and stones at vehicles, injuring three civilians, on a main road between Tel Aviv and Jerusalem. Media reports said two of those hurt were foreign tourists.
Troops gave chase and uninvolved bystanders were mistakenly hit during the pursuit, it added, including the Palestinian who was killed.
Over the past eight months, Palestinian attacks have killed 32 Israelis and two visiting US citizens. Israeli forces have shot dead at least 197 Palestinians, 134 of whom Israel has said were assailants. Others were killed in clashes and protests.